1.34am
Tuesday
8 March 2005
It is after all so easy to shatter a story. To break a chain of thought. To ruin a fragment of a dream being carried around carefully like a piece of porcelain.

--Arundhati Roy, The God of Small Things
Well, at least you can't say I didn't warn you that I might be a moment away from the obsessive and constant recording of minutia. Pictures, particularly, seem to inspire lag time, because there is only so much of it that can be automated, and the rest is incredibly monotonous, I think because my tiny little laptop doesn't like the huge-ity with which I like to display imagery.
It is staggering how much I miss these bursts of extroversion and introversion when I go without them. They enforce that I think a bit about the smaller pictures of what my days look like, and the wider spectrum of how I feel about my current snapshot. Sometimes they just allow me to revel in my own fantasy that I've woven about who I am and what that means. Does it mean anything to the world at large? Will it ever? Does it mean things to the people that I see in these snapshots, and are they positive things? Or at the very least, thought-provoking things?
2.44 is so not the time for this shit, and I know it. I resent more and more each day how self-indulgently absurd some of this really is. Of course my personal page is meant to be about me, but is it really "ME" to be so disregarding of any sense of rigor in my "writing?" I am soon going to embark on a search for structure and cohesiveness. To find it without losing the curvy wild marilyn shall be part of the mission statement.
• × • × • × •
The quotation in the header is from one of about ten million really good books that my mom got me for Christmas. One of the best teachers ever (though honestly, all my high school English teachers were stellar) would be adamant around the holidays: "BOOKS. Give everyone you know BOOKS, people." It is really good advice, if you have the same priorities in your friendships that I do. Something about not counting the illiterate jolly fools among your compatriots.
• × • × • × •
I had a fabulous weekend, spending more time with the gorgeous and full of grace Bonita than I have in a little while. I had a mostly wonderful Six Flags experience, the negative aspects of which included the most unhelpful security staff bleeding into an infuriating amount of my day today—the positive aspects of which are much more fun to linger upon: cookies hot from the spit, cozy cuddling on the Wheelie, a deeper ability for calmness than I thought myself capable on Acrophobia, giggling a bit too much in nervous excitement as the waterfall and rapids took their fated splashes on either side of me, walking with just the momentum of continuing the day after the exhaustion falls over you like a shadow.
• × • × • × •
I've started using flickr a bit more, I think I would still prefer to eventually host my own photography, but for now, I will follow the nice examples that have been laid out for me by some other lovely folks.
• × • × • × •
Leaving for Europe in FOURTEEN DAYS, believe it or not. I'm not sure that I do.
4.34pm
Tuesday
8 March 2005
I call it cunt. I've reclaimed it, cunt.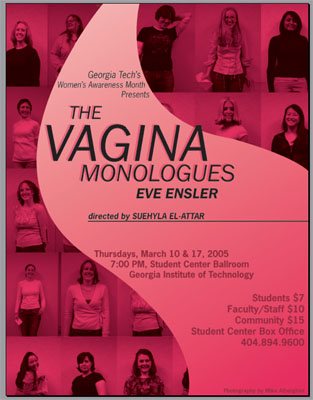 Yep, I'm going to be on stage talking about my hoo ha. The show is amazing, in my opinion—uproariously hilarious, sad and painful, empowering, enlightening. If you've never seen it, you are missing out, and if you've seen it before, this year's interpretation is wilder, more intimate, and hopefully just as powerful as the incredible girls who've preceded us.
In addition to all that: you'll be helping to raise awareness and funds to end violence against women and girls in Atlanta and around the world.
And I would love to see you!